Custom Electrical are specialist commercial electricians and industrial electricians and experienced commercial service and compliance electricians. Our number one focus is to provide our clients with the best possible commercial electrician services centred on precision and reliability. Precision in our work quality and attention to detail, and reliability in our people, our advice, and the meeting of deadlines.
Custom Electrical bring a high level of commercial electrician expertise, motivation and enthusiasm to our business partnerships. We pride ourselves in being able to offer valuable advice and  industry insights. We are passionately dedicated to developing long term business partnerships by providing quality commercial electrician services and delivering solutions which enhance your reputation and ours.
Qualified, Certified & Trusted

Commercial Electrician Expertise
Our commercial electrician experience is what enables us to confidently deliver what we promise. Our management team of specialised and qualified commercial electricians and industrial electricians have the expertise in all areas of electrical installation to professionally manage your projects from conception through to delivery.
Commercial projects require an experienced team to ensure projects are finished on time and on budget
Proven step by step work processes and quality assurance checklists ensure we deliver on our promise of 'Precision and Reliability'.
Whether scheduled, reactive or urgent, reliable commercial electrical servicing requires the right expertise at the right time.
We understand machines must be operating to create turnover, this is why we offer a 24 hour 7 day call out service
Servicing Commercial Electricians
Custom Electrical offer the full range of professional electrical services. Our service division of commercial electricians have the expertise to advise on the requirements of your project, and the tools to get the job done. 
Our service involves a regular programme of service visits at a frequency required for operational checks and compliance.
Our IQP registered electricians will test and maintain your emergency lighting on a regular schedule for your compliance.
We manage a recurring scheduler electrical test and tag system for a set and forget electrical test & tag service.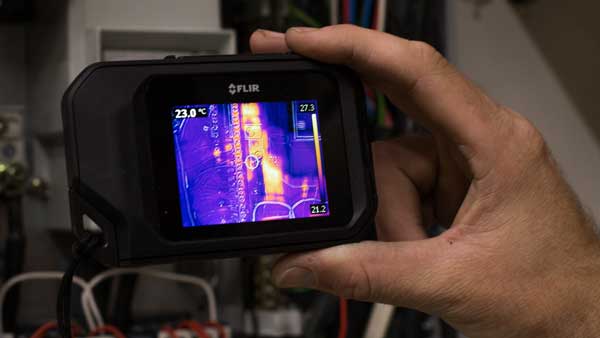 Thermal imaging is the most effective and efficient option for early detection of electrical problems.
As specialist commercial EV charger installers, we install Electric Vehicle chargers in the Auckland region.
We log data to calculate power factor and investigate power usage to ultimately save you electricity costs.
Turners have been using Custom Electrical for a number of years now, Dave and the team are fantastic to deal with, are very competitive and super professional. It's difficult finding contractors you can really trust. Very happy to have found the Custom Electrical team and highly recommend them to anyone.
Custom Electrical have consistently offered excellent service to our business, Steel & Tube, with great professionalism and workmanship. Custom Electrical have undertaken a range of work for us, from machinery guarding to light replacements. I would recommend David and his team to any business or property owner.
We used Custom Electrical for the refurbishment and upgrade of Gilmours Manukau. Kiauni, the site manager from Custom Electrical was outstanding. We had no call backs or call outs on this project which is very uncommon for this type of work as Gilmours needs to continue operating while the project is being carried out.
Custom Electrical present their quotations in a way that demonstrates their ability to foresee the whole job, and complete the project without needing to claim for lots of extras. We appreciate their integrity, honesty and positive attitude on the job, as this enables us to deliver our projects with confidence.
At Custom Electrical 'precision and reliability' is a promise that we guarantee. Our 
Guarantee Statement
 offers you assurance that we'll deliver.
Custom Electrical is committed to sustainable businesses practices to reduce environmental impact and improve social outcomes. Custom Electrical operates comprehensive recycling and waste management processes. We use Abilities Group for recycling, a non-profit society dedicated to enriching the lives of people with disabilities through meaningful work. Discover more.
Custom Electrical is a registered member of Amotai. Amotai provides Māori businesses with connections to buyers who recognise the added social value buying from Māori businesses can create in our communities. Discover more.
Our capability statement brochure will give you the confidence that Custom Electrical has the ability and expertise to be the ideal electrical partner for your business
.
Simply fill in your information to view and download it immediately.