Enhancing Your Reputation
Commercial and Industrial Electricians
Custom Electrical are specialist commercial and industrial electricians and experienced commercial service and compliance electricians. Our number one focus is to provide our clients with the best possible electrical service centred on precision and reliability. Precision in our work quality and attention to detail, and reliability in our people, our advice, and the meeting of deadlines.
Custom Electrical bring a high level of expertise, motivation and enthusiasm to our business partnerships. We pride ourselves in being able to offer valuable advice and  industry insights. We are passionately dedicated to developing long term business partnerships by providing quality service and delivering solutions which enhance your reputation and ours.
Qualified, Certified & Trusted

Our experience is what enables us to confidently deliver what we promise. Our management team of specialised and qualified commercial and industrial electricians have the expertise in all areas of electrical installation to professionally manage your projects from conception through to delivery.
Commercial projects require an experienced team to ensure projects are finished on time and on budget
Proven step by step work processes and quality assurance checklists ensure we deliver on our promise of 'Precision and Reliability'.
Whether scheduled, reactive or urgent, reliable electrical servicing requires the right expertise at the right time.
We understand machines must be operating to create turnover, this is why we offer a 24 hour 7 day call out service
Commercial Service Electricians
Custom Electrical offer the full range of professional commercial electrical services. We have the expertise to advise on the requirements of your project, and the tools to get the job done.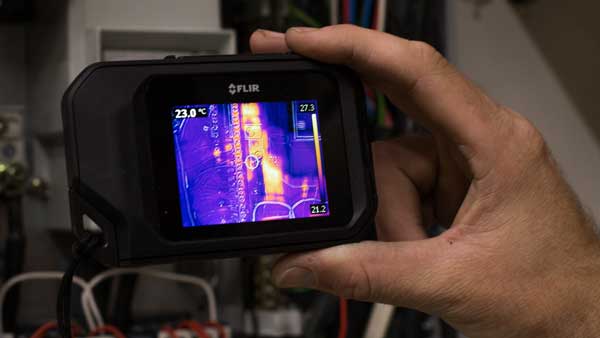 Thermal imaging is the most effective and efficient option for early detection of electrical problems.
We log data to calculate power factor and investigate power usage to ultimately save you electricity costs.
Power factor correction can eliminate or reduce extra power charges for kVA site capacity and reactive power.
Our service involves a regular programme of service visits at a frequency required for operational checks and compliance.
Our IQP registered electricians will test and maintain your emergency lighting on a regular schedule for your compliance.
We offer a full design and build machine safeties service, from completely fenced in machines to small light curtain installs.
Custom Electrical present their quotations in a way that demonstrates their ability to foresee the whole job, and complete the project without needing to claim for lots of extras. We appreciate their integrity, honesty and positive attitude on the job, as this enables us to deliver our projects with confidence.
At Custom Electrical 'precision and reliability' is a promise that we guarantee. Our 
Guarantee Statement
 offers you assurance that we'll deliver.
As a member of the Sustainable Business Network, Custom Electrical is committed to sustainable businesses practices. We have comprehensive recycling and waste management processes and offer sustainable electrical solutions for our business partners.