Thermal Imaging Electrical Inspection
Custom Electrical's Auckland based team provide a full electrical thermal imaging inspection service. Thermal imaging is the most effective and efficient option for early detection of electrical problems. Our thermal imaging service and reporting enables the quick identification of any electrical issues.
Benefits of Thermal Imaging
Risk Reduction
Minimise the risk of fire or equipment failure through early detection of loose overheating electrical connections and have issues resolved before damage is caused or equipment breaks down. 
Cost Reduction
Find failures and have these resolved during scheduled outages as opposed to when facilities are occupied or machinery is operating. Resolving issues before they become problems will extend the life of your equipment. 
Insurance Savings
Insurance companies require thermal imaging reports for commercial buildings, which reduce insurance costs. 
Reliable Thermal Imaging Service
Free of charge, we consult with you onsite to develop a plan for undertaking a thermal imaging inspection.
We then provide a cost to complete your thermal imaging report.
On agreement, we will carry out the inspection and complete the report.
We will provide you with a hard copy and digital copy (pdf) of our report for your records or insurance requirements.
If the inspection reveals any areas of concern we will provide you with a cost of resolution and inform you as to the level of urgency.
On agreement, we will carry out the work needed to resolve the issues.
We will then update and return your report for insurance purposes.
For reoccurring work, typically annual, we utilise specialised job management software and schedule all visits at the required intervals. We will contact you prior to the scheduled date to remind you of the upcoming inspection. Every 12 months we will reschedule as required.
Current Serviced Client Sectors
Educational Sector
Office buildings
Quarries
Industrial clients
Restaurants 
Cafes
Commercial property companies
Call us today or email service@customelectrical.net.nz to arrange a consultation and site visit. 
Thermal Imaging Project: Ihumatao Quarry
Ihumatao Quarry contracts to us to provide thermal image reports for them.
We carry out thermal imaging and provided them with a report.
Our thermal imaging inspection revealed an alarming hot spot. This hot spot (pictured below) was found in an electrical connection to the main switch. By simply tightening the connection we resolved this fault. Had this not been discovered there was potential for a fire to break out in the main plant room. Fire damage could have been in excess of $100,000, however the cost of business downtime would be much higher.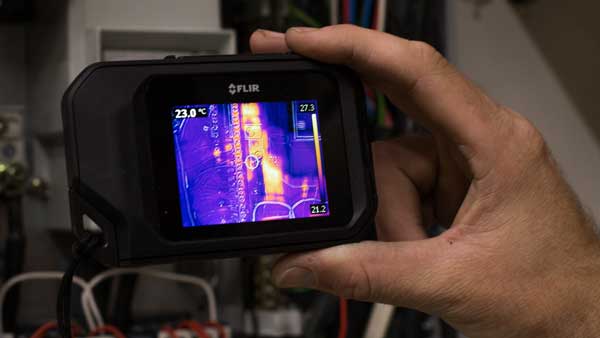 Qualified, Certified & Trusted
A sample of Custom Electrical thermal imaging projects